Bathroom renovations range from simple upgrades to full-scale redesigns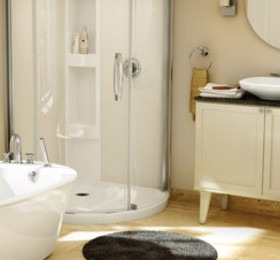 It's a space where you can sink into a hot bath or disappear inside a steamy shower, and shut out the rest of the world. Your bathroom can be your oasis — when it's done right — and it's also one of the smartest rooms to renovate, from a resale perspective.
Here at TIMBER MART, we're always ready to lend our expertise …
Once you've determined your budget for a bathroom renovation, it's time to start thinking about what you'd like to update or replace. Some homeowners decide to rip everything out and start from scratch, while others hope to make a few improvements in order to give the space a new life.
If you live in an older home, there could be structural issues that need to be addressed — like rotting floors, plumbing that's corroded or isn't vented properly. It's important to look after these issues first, of course, before doing anything cosmetic. Remember that it makes the most sense to renovate from the top down — so you're not tearing down the ceiling after you've painted the walls, or demo-ing the walls down onto brand-new tile.
Because bathrooms are usually the smallest rooms in our homes, it's extra-important to measure carefully before making any purchases — especially when plumbing and electrical fixtures are concerned.
Consider the number of people in your family and how many bathrooms you have in your home before deciding on any renovations. If you're redoing an ensuite that's just for you and your partner, you'll have a lot more leeway than if you're sprucing up a single bathroom that's shared by a family of five.
Think about the design of the rest of your home, and how a redone bathroom will fit into the mix. Bathroom design is much more than choosing a tile colour. Do you lean towards a contemporary style, with lots of clean lines, sleek finishes, and minimalist surfaces? Or do you like the coziness and personality of a room with family photos, warm wood tones, and cheerful accessories?
Sometimes people don't think about bathroom storage beyond a drawer or two to stash their toothbrushes and contact lens solution. But bathrooms require convenient, cohesive spots to store everything you need in there, like shampoo and conditioner, bars of soap, cosmetics, and towels — not to mention a few extra rolls of toilet paper!
If you've fallen in love with a pedestal or wall-mount bathroom sink, don't despair. Yes, cabinets are great, but they're not the only storage solution. Many homeowners are incorporating closets into their newly-designed bathrooms in order to keep everything behind closed doors. Others choose to install floating shelves, and keep their items corralled in baskets.
A renovation is the perfect time to make adjustments that will help your family now and in the future. If you plan to stay in your current home as you get older — or if you have elderly parents living with you — consider reinforcing the walls while they're already opened up. This will save you a step down the road, if you choose to install grab-bars for assistance. You may want to consider how easily a wheelchair or walker could move around in the space, or put in a no-threshold shower. Even if you don't live in the home long enough to take advantage of these features, it will make the home very marketable when you go to sell.
There are so many interesting products out there to consider — from soaker tubs to digitally-controlled showers. You can save money on your water bill by choosing a low-flow toilet, and wall-mount toilets are great for very small bathrooms.
If you can't swing the cost of a full-blown bathroom makeover, choose a smaller project that will refresh the space. New flooring, a new tub, or a new sink can make it feel like an entirely new room — and a nice fresh coat of paint is one of the most inexpensive makeovers out there.
Happy renovating!